GESTRANS®
HAS FORESEEN IT
Does your company conduct national and international transport? Then, these notes may be of interest:
Want to avoid the problems that cause the arrests, delays in cargo delivery and subsequent allegations of your vehicles in the countries of the European Union?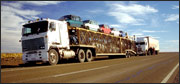 Everything is provided. Accidents, sanctions, mechanical problems, theft, funding…
Whatever you need Gestrans® will be there to help you anywhere in the EU and in a few minutes.
Suffice a simple phone call to our:
CONTROL CENTRE
24 HORAS
+34 943 63 90 88
+34 902 242 124
where competent specialists in transport in several languages and familiar with European legislation, will attend and give immediate solution to your problem.
In a short time our professionals arrive on the scene