ADVANTAGES OF THE

BIDEAN CARD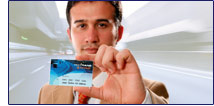 Capacity of Releasing
Europe's ability to release cash, regardless of the amount of cash needed to take off.
Unique Pin Code
For each operation, customer PIN will be provided unique, valid only for the current operation..
Total Security
The Bidean Card is not enabled for online purchases or for shopping in physical stores.
In case of theft, the card may not be used, being a simple plastic without value or functionality.
Flexibility
Customer can reload the card in full autonomy using a virtual POS or, alternatively, with the help of our staff who will attend the 24th hour.
Rapidity
The reload operation is completed in about 30 seconds, limiting the maximum stopping the vehicle.
Control
Customer will receive, every week, a full detailed report of the transactions effected through the Bidean Card.